Link copiato negli appunti
A supply chain with reduced impact
TOWARDS ENVIRONMENTAL SUSTAINABILITY
Protecting the environment has always been at the top of Amadori's priorities. We work to constantly improve efficiency through the optimal use of every source and resource, and we promote continuous training of all personnel on the proper management of environmental aspects.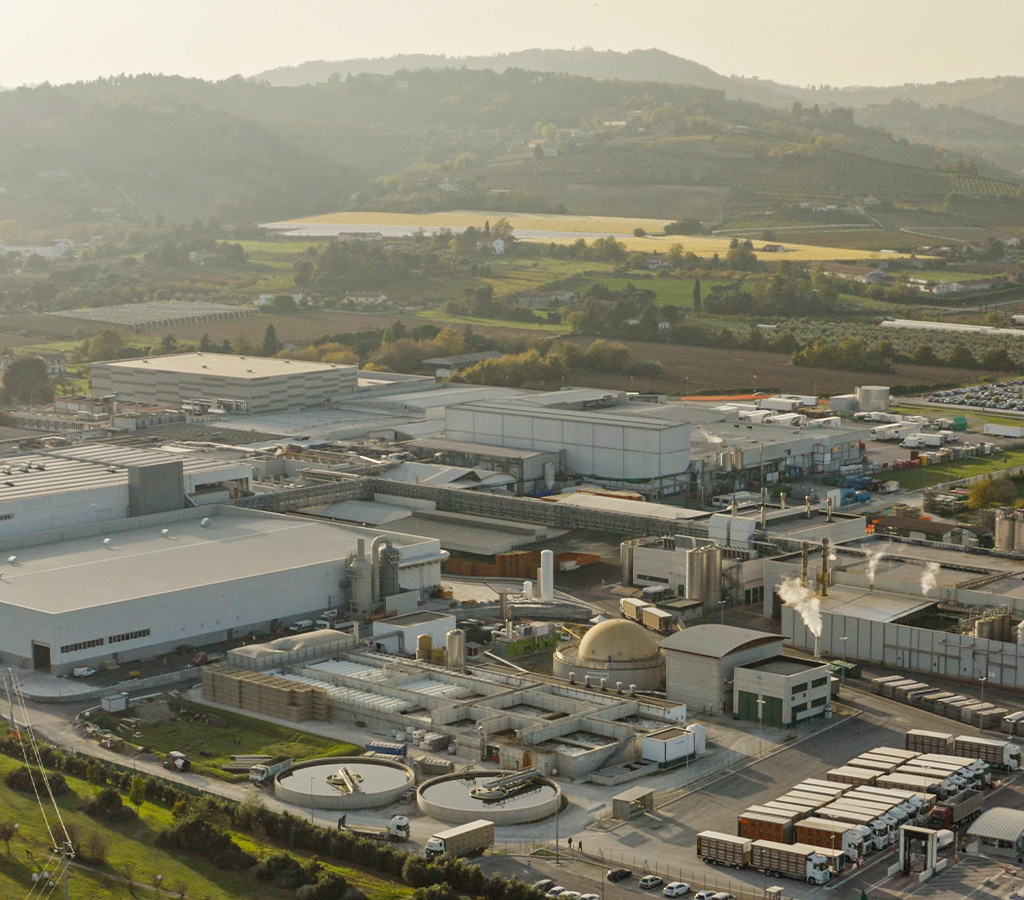 INTEGRATED SUPPLY CHAIN WITH REDUCED IMPACT
The Group's supply chain is phased and features specific and distinctive production inputs and outputs. To monitor and reduce the environmental impacts associated with each phase Amadori has adopted a structured set of systems, practices, and procedures that manages these particularities and differences in the best possible way.
ANIMAL HUSBANDRY
Managing environmental impacts along the supply chain starts with the raw materials used to prepare feed. In recent years, thanks to the increasing availability on the local market of various by-products from the cereal, confectionery and pasta industries, we have increased consumption, with positive repercussions on the share of raw materials, marking a virtuous approach to circularity.
THE WATER FOOTPRINT
Regarding water usage, the activities related to animal husbandry (the part of the supply chain that includes feed mills, hatcheries and farms) have a reduced impact compared to transformation. Usage is highly variable, especially in the breeding phases, and increases with rises in the external temperatures, both for drinking and for the functioning of the cooling systems.

The food processing phase has the most impact. Down the years the company has launched a series of initiatives to reduce its water footprint. These include monitoring of withdrawals within the factories, efficient washing systems to reduce waste, the use - where possible - of water recovered from waste treatment facilities and surface water purification plants.
THE WASTE CYCLE
Our commitment to waste recovery has led to an increase in the quantities of waste sent for recovery, with less going for disposal.

The waste from animal husbandry, mainly animal manure, can be used as an organic soil conditioner or combustible biomass. Amadori is committed to collecting and treating waste and investing resources in alternative solutions for the productive use of chicken droppings (a mix between manure and litter), with a view to the circularity of the key elements of the poultry supply chain.

Waste associated with food processing activities is mainly sludge produced by on-site treatment of effluents and packaging materials such as paper, plastic or wood. Sending the packaging materials for recovery has been a established practice for years.
These pages include the story of a year marked by great commitment.
An important part of a journey that will allow us to grow in an even more aware, responsible and attentive way.
Read the sustainability report